LAN-XI – The next generation of acquisition hardware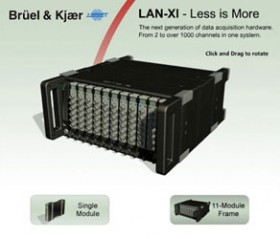 From 2 to 1000+ channels in the same system
Imagine using the same equipment to make a multichannel measurement using several large rack systems one day, and a simpler two-channel measurement using a single module the next. With LAN-XI this is reality. You just configure and reconfigure according to the nature of the test job whether it be in the lab or in the field. One system does it all.
Click Here to view a 3d image of the LAN-XI data acquisition hardware
Unlimited Performance – from Two to more than 1000 Channels
A LAN-XI system can be configured according to your needs. The number of channels and measurement bandwidth is entirely up to you. The Gigabit LAN data backbone supports extreme data throughput, and if this is not enough, then the system is designed so that additional networks can run in parallel.
One System, More Flexibility
Any module is a measurement system in itself and can be used in a rack, as stand alone or in a distributed system. As a result – fewer cables, fewer errors, and faster setup.
One Cable Operation
You can use standard LAN cables for synchronous sampling between modules and system power, thanks to Power over Ethernet (PoE). This minimises the number of cables required and results in lower cost, less downtime, easier maintenance, and greater flexibility of installation.
Precision Time Protocol
The IEEE 1588 Precision Time Protocol provides a protocol for synchronizing the clocks of modules in a distributed measurement system, thus providing correlated data acquisition across the measurement transducers.
Built for Field and Lab Use
The modules and the detachable front plates are cast in magnesium for maximum stability, light weight, and tough field use.
Precision Engineering
LAN-XI seamlessly integrates unique technologies such as Dyn-X and REq-X . As a result, easy setup, no overloads, an expanded frequency range, and optimum all-round performance save not only time but also provide accurate measurement results first time. The input modules support TEDS (Transducer Electronic Data Sheets).
Silent Operation
The modules are fan-less. Less noise means less measurement disturbance.
Intelligent User Feedback
Each input module has a front-panel display that monitors information on identification and status, has a wide range of overload detection features, and indicates incorrect conditioning. Each module also has its own homepage for storing information.
Interchangeable front panels
Interchangeable front panels let you decide which cable type to use and make for easy swap of transducers. So less hardware is needed.
PULSE and I-deas Compatible
LAN-XI offers the same AES/EBU synchronization technique as your existing IDAe hardware, allowing you to combine the two and still maintain sample- and phase-accurate measurements. So you get the latest technology without having to make a major new investment and without having to discard your old hardware.
Data recording
Record data to PC with Time Data Recording software. Simultaneous real-time analysis allows normal operation with the safety of being able to review or analyze the raw data at leisure.
Click Here For more information on the LAN-XI Data Acquisition System