PCH 1072 Mk2 Proximity Probe Monitor
The PCH 1072 Mk2 can be configured for a proximity probe for surveillance of dynamic vibrations as well as for GAP measurements. Both the dynamic vibration signal as well as the actual GAP measurements can be delivered through 2 individual DC outputs to a central controller. The monitor offers 4 relays freely configurable for vibrations and GAP alarms. For optimal adjustment of actual sensitivity and GAP detection on site the user software PCH Vibration Studio offers an integrated GAP calibration tool.
PCH 1046 Proximity Probe Monitor
The PCH 1046 is a proximity monitor with a high quality and an affordable cost. The monitor is targeted to be used for monitoring water, steam or gas turbines or any other type of machine needing on-line vibration monitoring based on proximity probes.
The monitor is equipped with 4 vibration channels with the capability of monitoring X,Y Smax and GAP. Furthermore it is equipped with optionally 1 extra channel for case expansion monitoring (Z). A trigger input is present for Off line orbit monitoring.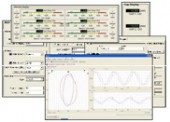 All parameter settings are made using the complementary Windows based software CHT 1024.
Included in this software are different visualization possibilities including Graphical ORBIT.